IKEA has some of the best good quality, budget furniture that suits every need. This Swedish furniture company is extremely durable and you can even customize your pieces as per your wish and need. People are also truly ingenious and they use their imagination to create some amazing hacks. Normal IKEA furniture has the tendency to look a little plain, but there are many DIY hacks you can use to make the furniture look extra luxurious.
We have scrounged the internet and have found some of the most amazing IKEA hacks that you will love and can also use at your home. So, get ready to update your furniture to create some amazing pieces.
1. Window Seat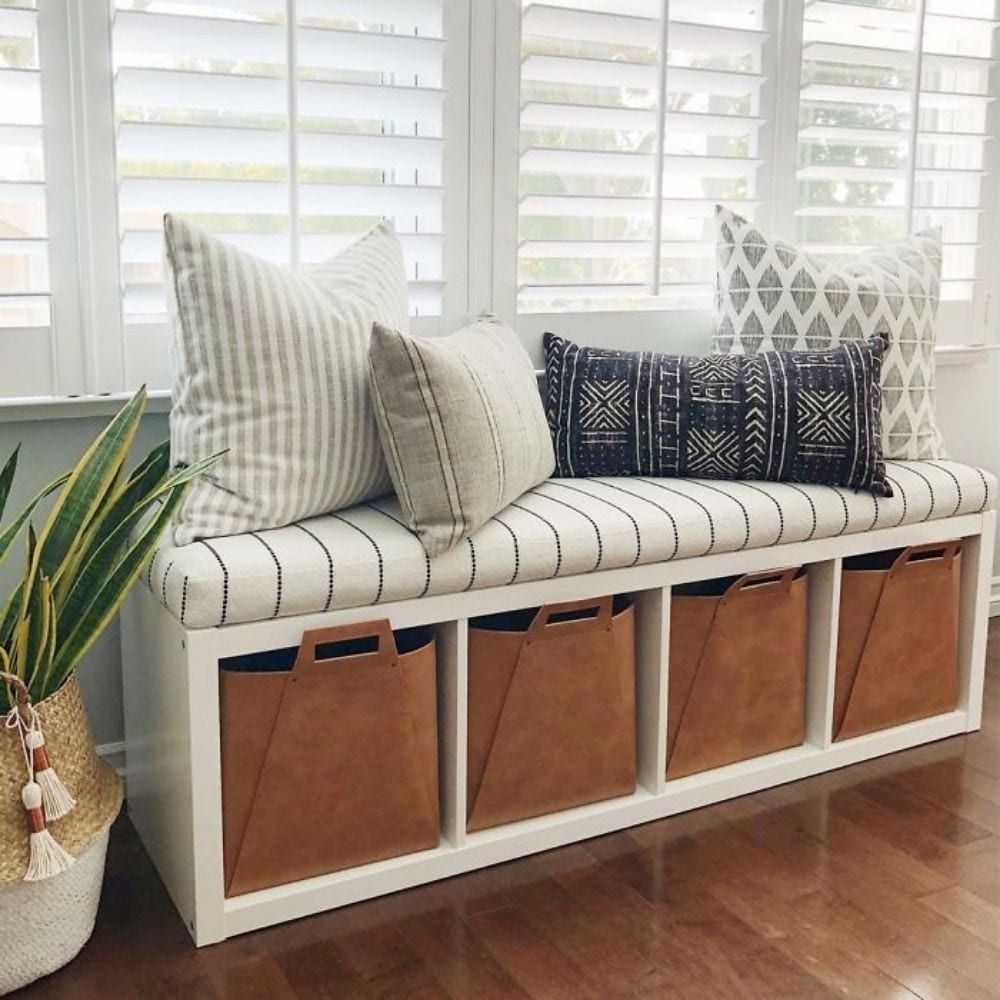 A lovely cozy window nook is literally a book lover's dream. But sometimes you have to create these cozy nooks and not everyone has the time to get custom-made furniture. The good news is, you can now convert your simple IKEA shelf into a window seat.
Just look for Ikea Kallax and transform it into a beautiful window seat. Add a nice seat over the shelf, throw in a few cute pillows and throws, and voila! Your beautiful window seat is ready! All you need to do now is grab a cuppa joe and a book to enjoy this space.
2. Luxurious Accents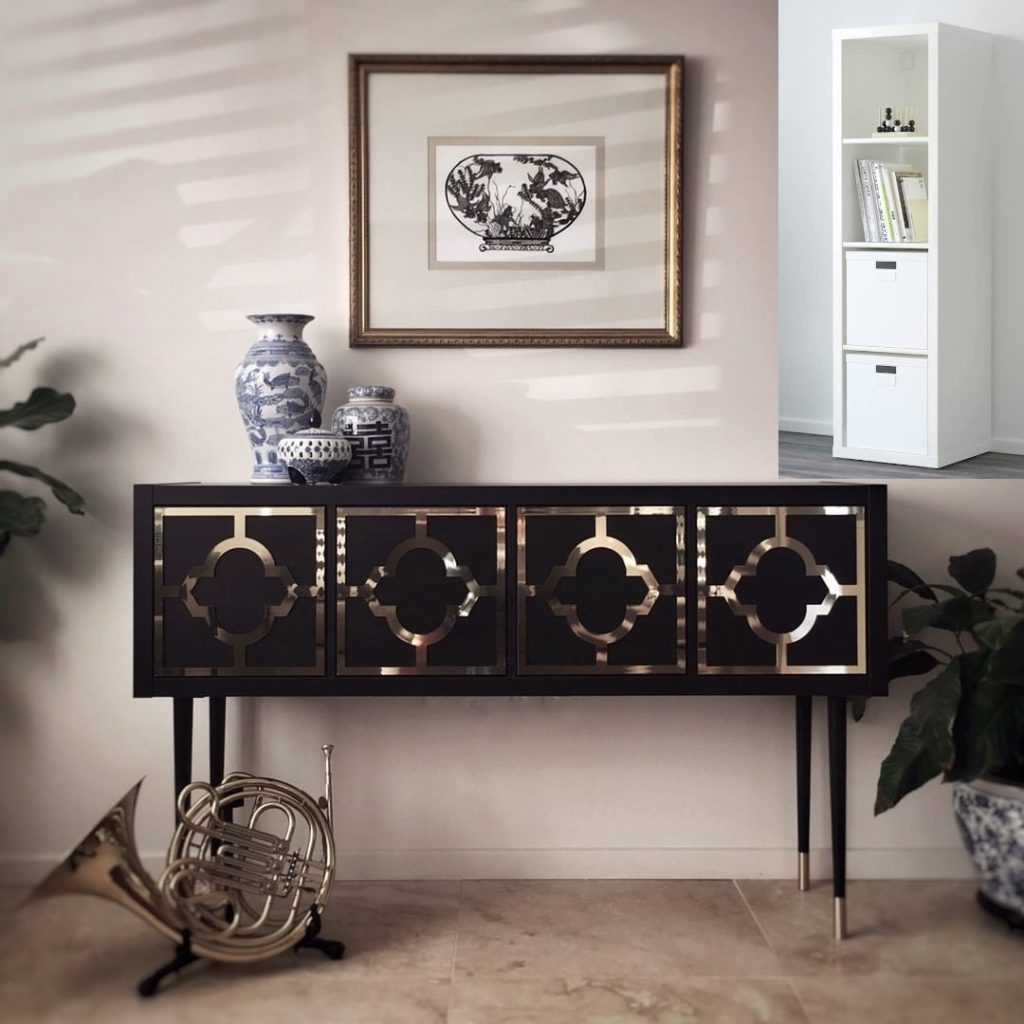 IKEA has a great range of furniture types and one can choose anything according to their liking. However, the furniture style is kind of basic and minimal. If you want anything that has a contemporary design, then you will have to attempt a DIY.
This person bought the IKEA Kallax piece and literally turned the piece around. He mounted the Kallax on its legs and gave it a good paint job. Adding gold accents and foils also really made the piece look really amazing.
3. Cute Storage Cabinet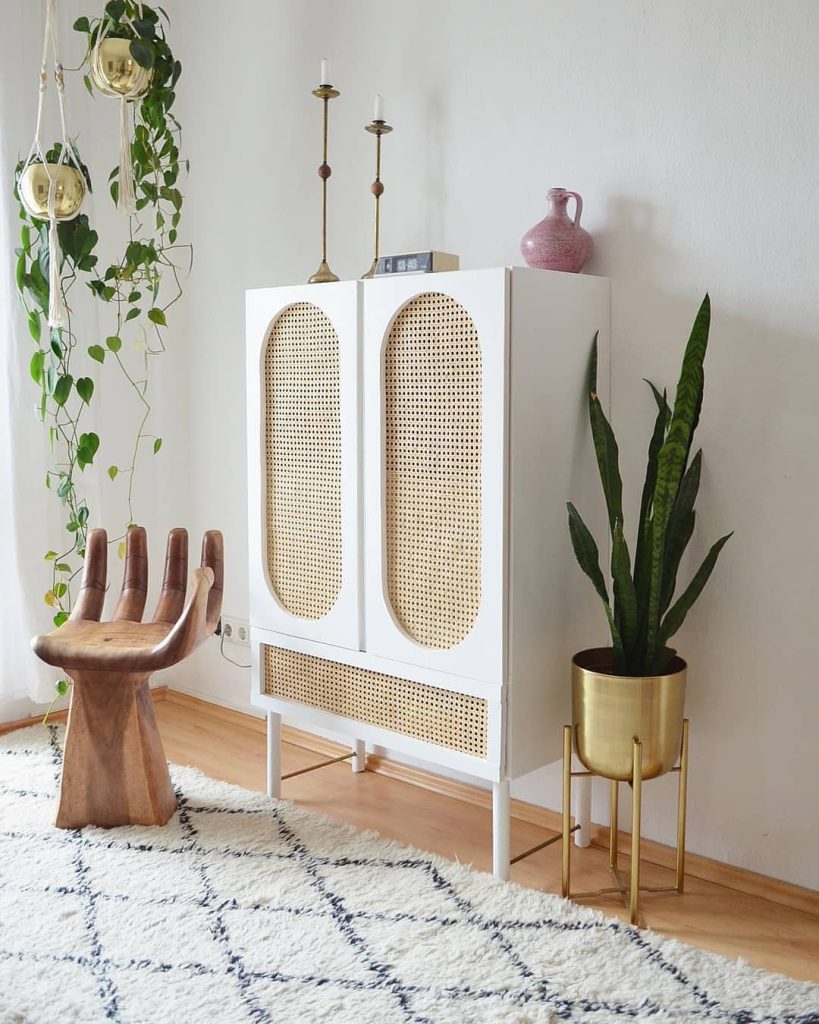 Extra storage never hurts anyone and if the storage cabinet is super chic- nothing like it. Building DIY furniture or storage requires a lot of creativity and also a lot of hard work. This person, however, decided to do it.
He took the Ivar Cupboard and created a very 70's style storage cabinet. He carved the wood output some rattan mesh in to make it look stylish. After that, he added the mesh on the lower drawer as well.
4. Faux Marble Table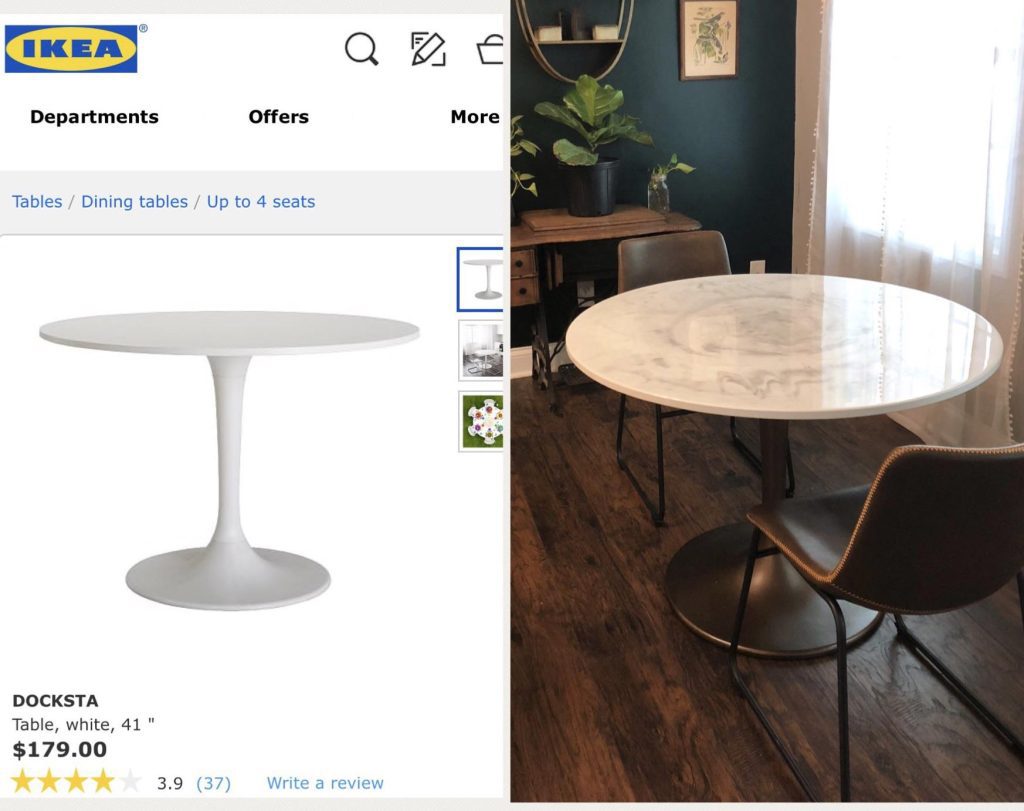 A marble table adds so much class to any dining area or living room. However, a marble table can prove to be pretty costly. What if we told you that there is a way to convert an IKEA Docksta table into a marble one!
This $180 table can actually turn into an amazing marble table using just a few ingredients such as spray paint, table epoxy, and a blow torch. Usually, a marble table might cost anywhere from $500 to even more. So, this hack is a total steal.
5. Fun Dresser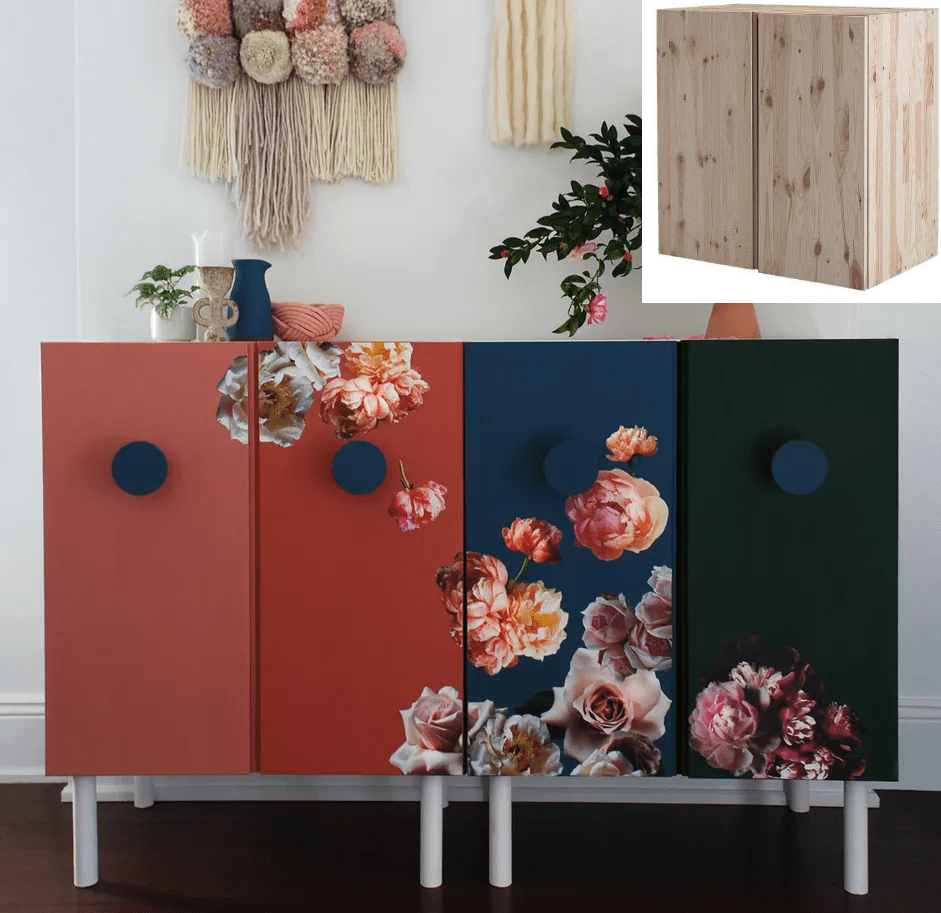 Some fun storage options are all you need to liven your living space up. All you need is a basic dresser from IKEA and some imagination. With this hack, you can go crazy. Choose your favourite colours, think of ideas for painting over the dresser -the choice is yours.
Add some legs to the IKEA dresser to give it some height and length. After that, choose your paints or just stick some images to the dresser if that feels easier. You can even add some fun doorknobs. Voila, your dressing table is ready!
6. Fantasy Bed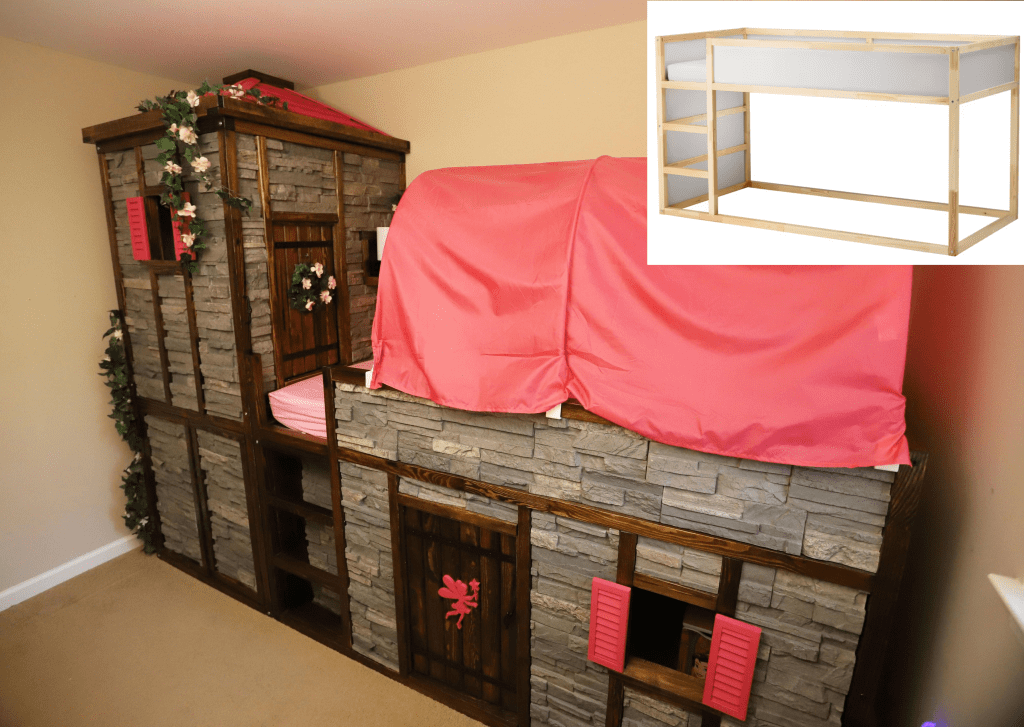 If you have a kid you will know how much children love cutesy beds with themes. Little girls love beds shaped like castles and other such fantasy beds. However, these themed beds can be expensive to buy. You can do a DIY bed with IKEA furniture.
Buy the basic IKEA Kura bed and try to create either a racecar around it with wood or cardboard. You can also build an entire castle with the help of some inspiration from this dad. Just use your imagination and let it fly!
7. DIY Bar Hack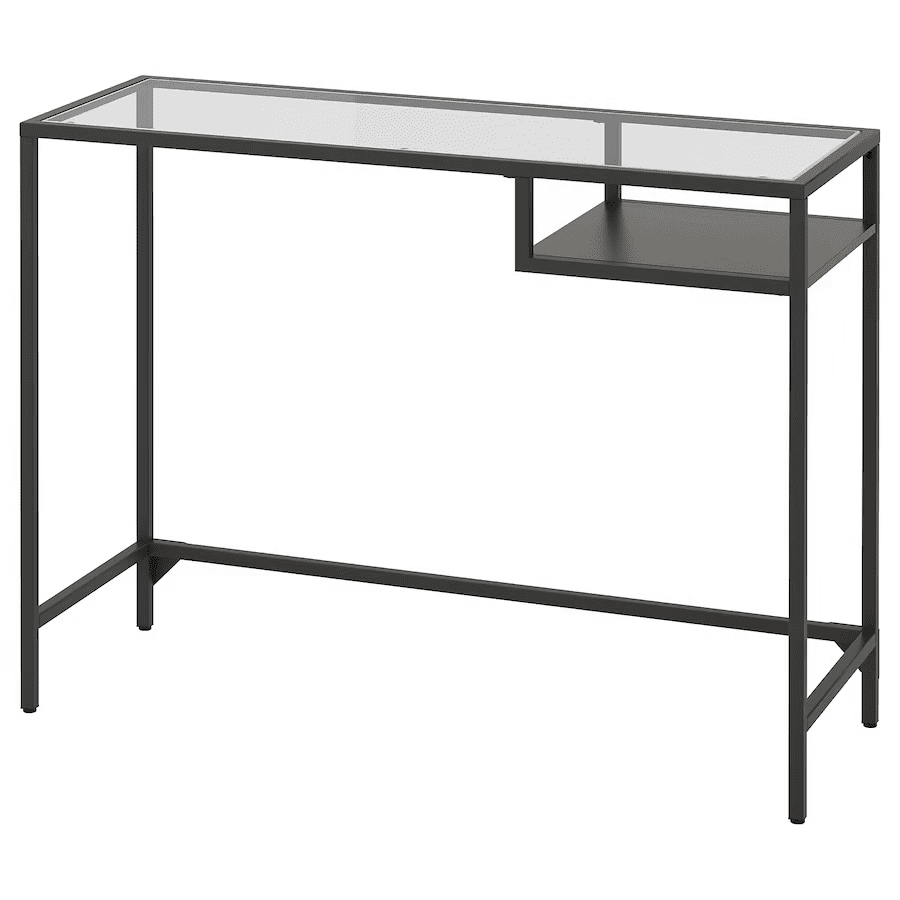 If you have always wanted a home bar, then this easy IKEA hack will get you far. Take a Vittsjo laptop desk which is a great stand-in itself and just use your imagination to create a bar. Here's how you can use it.
Just place two planks of wood on the table and the lower shelf. You can just hammer it in or just let it be. It will stay put under the weight of the bottles. Try nailing in a few glass holders into the top shelf for a nice look.
8. Kitty Bunk Bed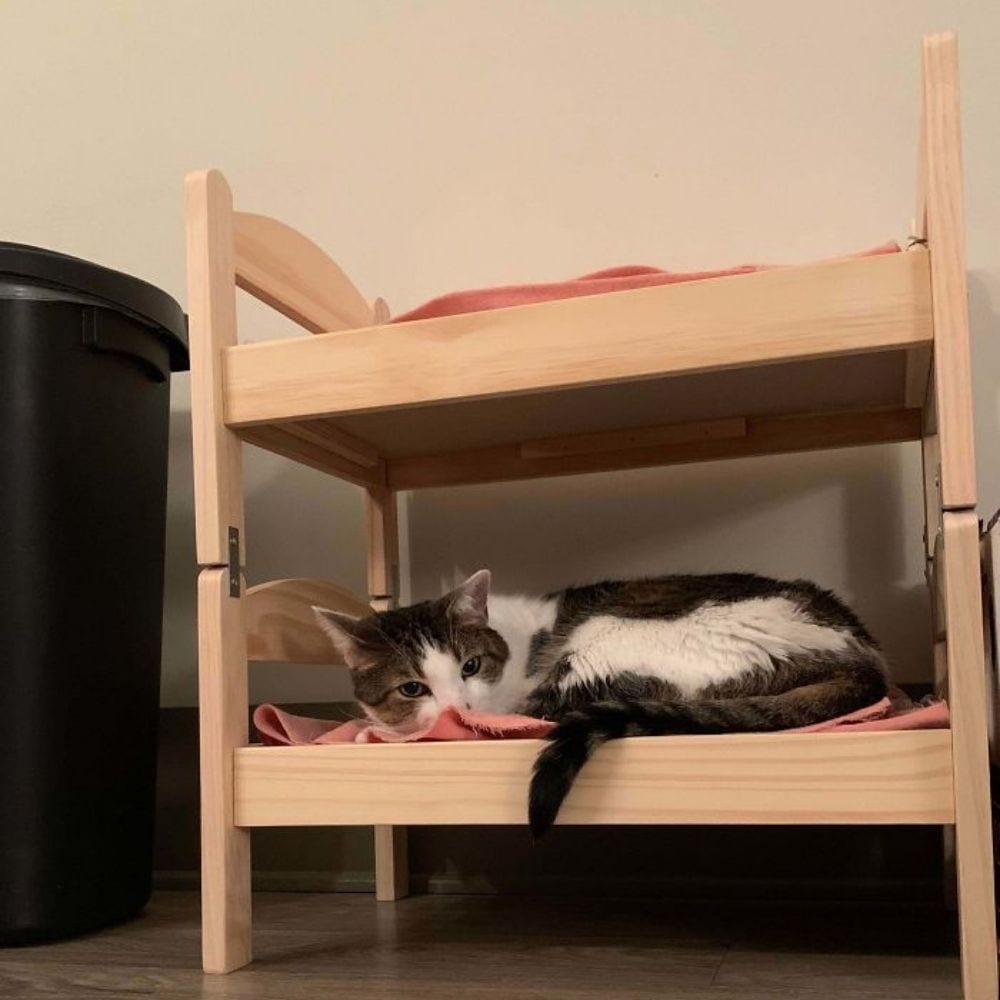 Pet owners will totally be able to relate to spending on pet beds. The number of times beds get destroyed is just countless. However, all the pet beds tend to look the same – round and cushiony. It can get a little boring to look at after a while.
For creating a unique pet bed, just take two Duktig Doll Beds and join them together. Add some nice cushions on them and make it super comfortable for your dog or cat. Just look at this cat napping nicely on it!
9. Elevated Dresser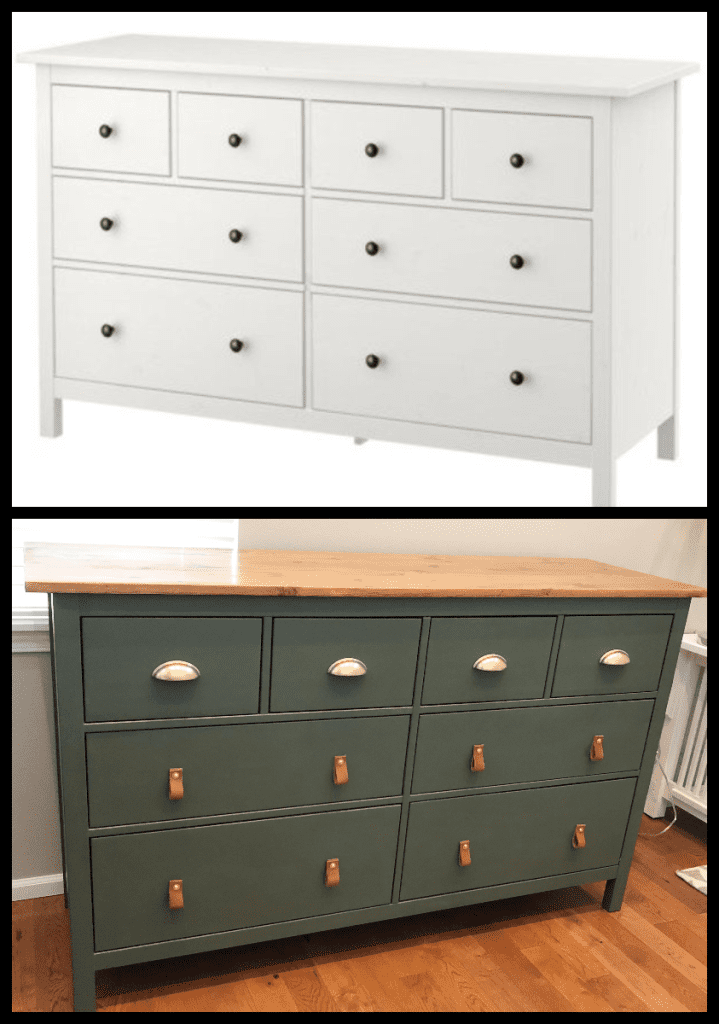 Shifting houses or just plain boredom can result in trying to create new things out of old ones. If you happen to possess the IKEA Hemnes Dresser then you can try to use this hack to completely change the look of the dresser.
All you need to do is sand and repaint the dresser and change the shelf knobs as well. Not only will this make your dresser seem super stylish but also give a whole new amazing look to your living room.
10. Coffee Table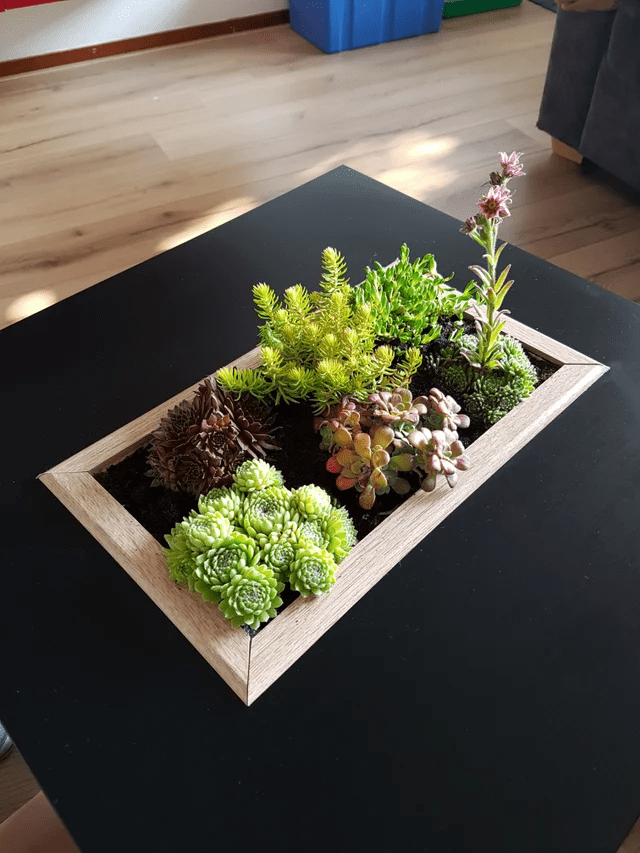 A stunning coffee table has the ability to elevate your living room to another level. Coffee tables can have basic designs though that can get a little boring after a while. This is why Iris decided to transform her IKEA table.
What she did was that she cut a hole on top of the table and scraped out the honeycomb interior. She then measured the hole, put a box in it and filled it with black soil and then succulent plants.
11. Entryway Cabinet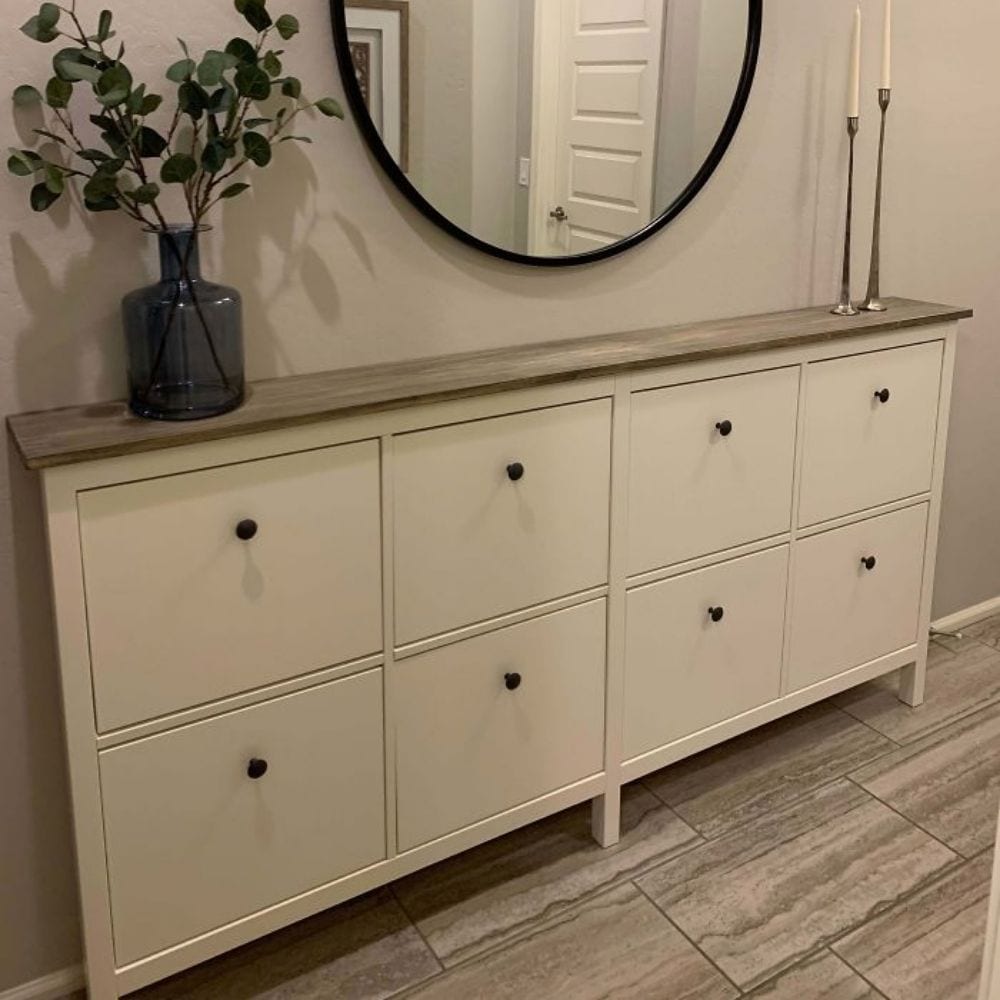 If you have a narrow entryway, then a cabinet can be tough to place. However, you can have a little fun with your furniture design here. Take two narrow cabinets like IKEA's Hemnes Shoe Cabinet and then try to let your imagination run wild.
As an idea, you can take two IKEA Hemnes Shoe Cabinets and combine them together under one stand with a wooden top to hinge them together. Next, you can choose your favourite colours and even paint over it. You have a new amazing cabinet!
12. Fun Bar Cabinet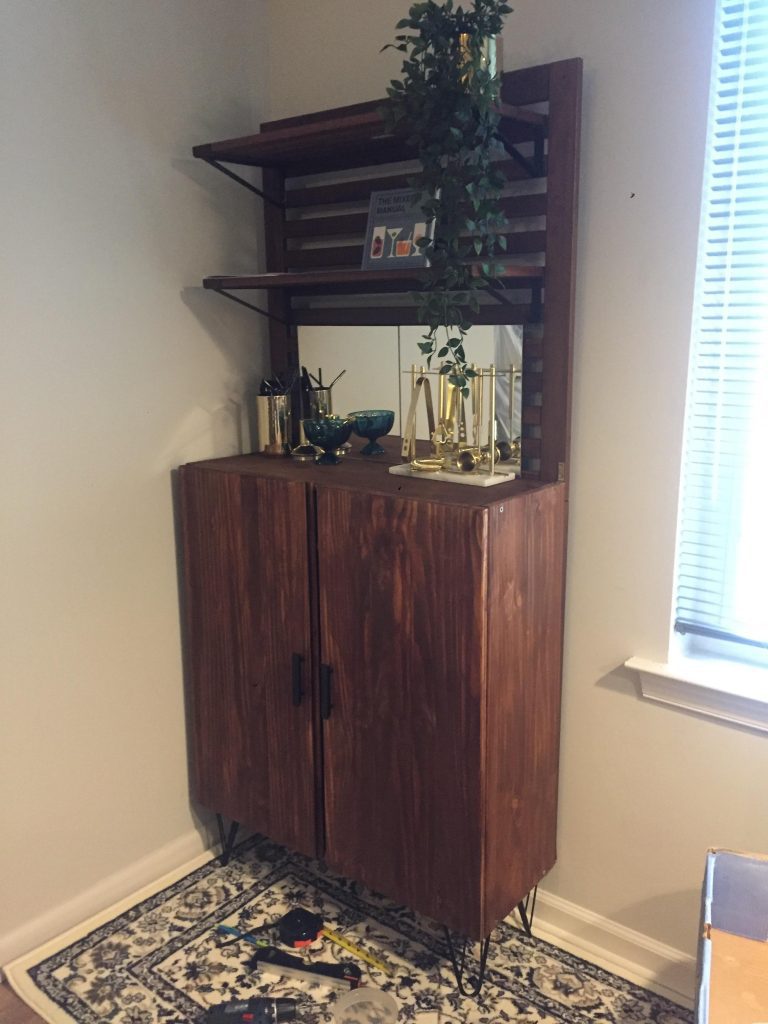 A bar cabinet can add lots of oomph and class to any drawing-room. But, a huge bar cabinet retails pretty expensively. This is why Rizzo decided to combine two IKEA cabinets to make her own fun bar rack and cabinet!
One look at this bar cabinet and no one can tell that these are actually two IKEA bar cabinets together. She has combined the Ivar cabinet and the Applaro wall panel and stuck them together. She added feet for the cabinet from an online store called Pretty Pegs.
13. Kitty Eating Station
If you are owners of both cats and dogs, you will know how difficult it is to feed them both. Both the pets are always super interested in the other's food and like to stick their nose in it. To tackle this problem, the owner came up with a creative solution.
He made an entire kitty eating station out of IKEA shelves. Take the IKEA Kallax and place a few wicker baskets in the cubbies. Some can be used to place the kitten's food and one can be used to feed the cat.
14. TV Unit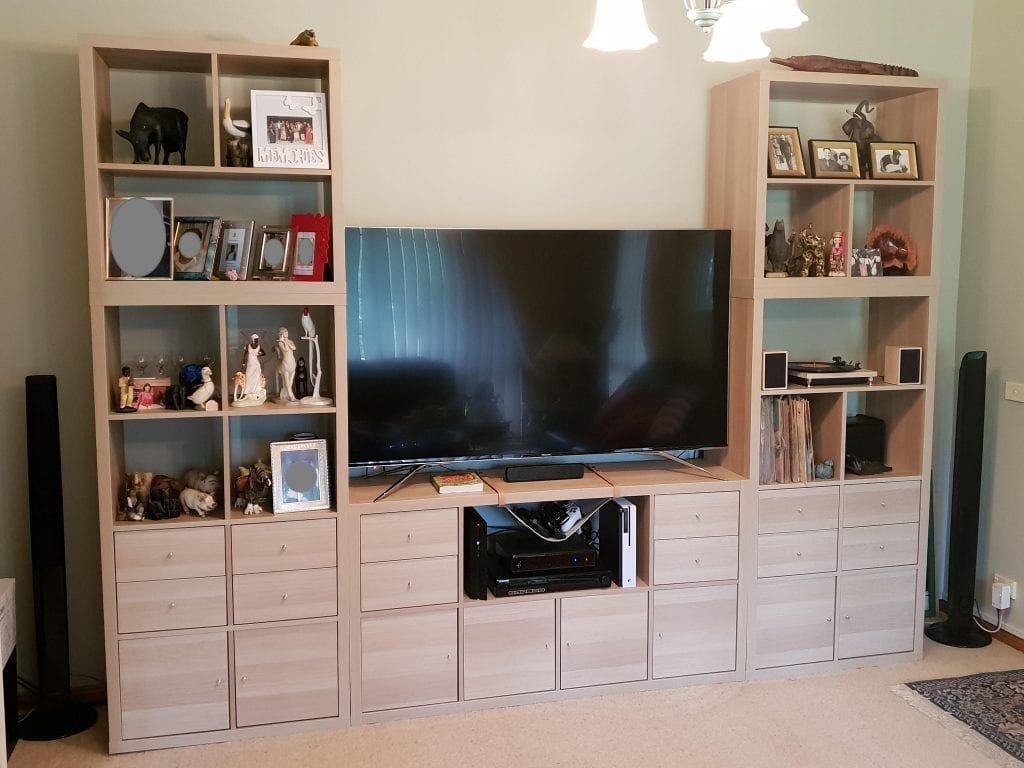 A TV Unit is bulky and huge, which is why it can cost a lot of money. But, there is a hack even here, thanks to the kind people of the internet. They used the IKEA Kallax which comes in the exact colour they wanted.
They exchanged the longer cross beam with the two smaller ones to create a larger space to fit consoles, record players, etc. Instead of purchasing a $2000 TV unit, this was done for $680 in a day's time. Definitely worth the effort.